Welcome to DMR!
 The West Michigan Technical Group is starting to work on a Digital Mobile Radio Repeater Network. The Network will be tied to the BrandMeister Network and our system will be connected to the Eastern United States Server in New York State.
The West Michigan Technical Group has a registered DMR Talk Group of 31269 on BrandMeister.  This means that any form of Hot Spot connected to any server on BrandMeister will be heard on our systems.  On our system, the talk group is static on Time Slot 2.
Our Repeaters:
Moline Michigan: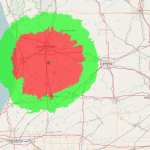 The Repeater is a Motorola Maxtrac Receiver, a Motorola Radius Transmitter / MSF5000 Amp, an Arduino Due / MMDVM Interface and a Raspberry Pi 3.  The Transmitter is currently on an Antenna that is 275Ft up the tower. The Receiver is on the same Receiver Multi-Coupler that the 442.175Mhz Analog Repeater operates on.
Frequency: TX:443.225 / RX 448.225 Color Code 1 @65w
Local Talk Group for the Moline Repeater is 312653 (Moline Repeater ONLY on Slot 2)
See the BrandMeister Wiki page for the United States for more about Talk Groups. here.
Kalamazoo:
Grand Rapids Metro:
Talk Groups:
Our Repeaters have the following STATIC Talk Groups assigned:
For Time Slot 1:
3100 – United States – Static
For Time Slot 2:
3126 – State Wide- Static
31269 – All WMTG Repeaters – Static
3126xx – Local Talk Group for each WMTG Repeater
Since BrandMeister has yet to enable a method to talk down a Static Talk Group, but just allows for a Dynamic Talk Group, sometimes this will cause conflicts.  Remember that if you dynamically use a Talk Group on any Time Slot, the Static Talk Group and the Dynamic Talk Group will both be routed to the Time Slot.  The active Talk Group stays active and prominent for 15 seconds. after the slot goes quiet.
We do not block any Dynamic Talk Group at all on our repeaters.  Any Talk Group documented on BrandMeister will link to any Talk Group on any time slot. We are conforming to the BrandMeister standards.  Please keep Time Slot 2 free for local traffic.  (Statewide and smaller)
Code Plugs:
We have created a couple of code plugs and have shared them.  These files are not perfect, but they work for some of us and we are always updating them.  We will share them as we make significant changes. Make sure you change your callsign and DMR ID!
There is a Contact Manager for TYT and CS radios (.rdt files) that just edits the files.  You need to original software to move the file to and from the radio. (See the files section!)
Firmware Updaters:
Currently I have posted the windows all in one updater.  I will try and keep it current. Please see the DMRTrack facebook page file section for the latest files. (See the files section!)
Files Section:
Code Plug and other files for DMR Radios.
SharkRF OpenSpot vs TP-Link MR-3040:
I have set this up into one nice little package.  Some Folks have asked for it.  here it is: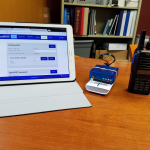 The PDF File can be downloaded from Here. It is a first run, and I will take feed back.
Enjoy!
MD-380/390/380G/390G MD380 Tools Firmware Flash Documentation for Windows PC's:
so, I was monitoring 3100 and heard Jesse WH6AV talking about his upgrade scripts and VMware Player which is free for personal use. A couple of Ham's in another country published this PDF.  To view or download the document, CLICK HERE!